There was Oscar Baumann, 20, a joiner from Adelaide. William Stephen, 28, a grocer from Sydney. Richard McGuarr, 27, had come off the family dairy farm near Lismore in northern NSW. Alexander Page, 28, a milk carter from Perth.
Loading
Walter Grace, 23, was a labourer from Brisbane. Edwin Gray, 30, worked as a driver and chauffeur before he made the journey from Riverton in South Australia.
Maurice Claxton, 24, a horse driver from St Arnaud in western Victoria, was killed while his younger brother, Theodore, was captured by the Germans.
By September, their father John had received a postcard from his youngest son, advising that he had been taken prisoner. There had been no updates by military authorities. In a letter home, Theodore said he didn't know where Maurice got to even though "we were together until we made the charge, when we got separated."
While Theodore survived and returned home in 1919, Maurice's fate remained a mystery.
But courtesy of genealogical testing and meticulous research, his descendants could give him the farewell he deserved.
Luke Claxton, the great nephew of Maurice, set out to research the history of the two brothers following the death of his grandmother. After contacting the Fromelles Association his father was asked to submit a DNA test.
"It all went from there really," he said on Wednesday. "I didn't realise the importance of this battle really until that moment. It's probably something that more people should know. What happened here and what they went through."
Corporal William "Billie" Stephen was described by a comrade as "a good man" who "acquitted himself very well". His mate James O'Brien, who witnessed his death, said: "Stephen was in one of the trenches taken on the night of July 19th at Fleurbaix when he was shot through the head as he stood by my side."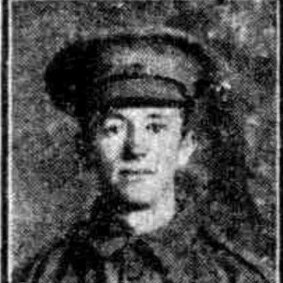 Relatives in Canada received an email last year asking if they would provide a DNA sample to confirm it was Stephen. They didn't even know they had Australian relatives – even if it was a second cousin three times removed.
"I did not know any family who went to Australia, I knew we went to the United States and Canada. At first I thought it might be a scam, but here we are," Lorraine Stephen said.
"But it was an incredible honour to be here. Both my grandfathers served in the First World War but I knew nothing of Fromelles."
Suzanne Chapman, a retired lawyer from Camberwell, in Melbourne, travelled to the Western Front to honour her uncle, Private Edwin Charles Gray, who was 30 years old when he was killed.
In February 1917 Edwin's eldest brother Alfred, who had enlisted in September 1914, wrote to the Red Cross having heard his brother might be a prisoner of war. The Gray family was officially notified Edwin was killed in action on April 2, 1917, though they held out hope he might be found.
Loading
"It's a very sad story," she said. "We never talked about it as a family I guess because they didn't know what happened to him or where he was."
She said her grandmother Ada wrote letters asking for information but there was nothing. The family was contacted about volunteering in 2008. Gray's identity was not confirmed until November last year.
She said it would have meant the world to her father, Herbert and grandmother to know family was present for the graveside ceremony.