"There is a potential that as the UK increasingly reorientates back towards its European partners, the UK-Australia relationship may dwindle in importance."
Overall the European Union, which Britain voted to leave in 2016, was rated the trusted international partner in terms of its capacity and willingness to act for good in the world, not the United States.
Russia and China were the two most distrusted nations, with 86 per cent and 74 per cent of those polled distrusting the two authoritarian states to act responsibly.
Britain's response to the war in Ukraine propelled the number of people who felt positive about the UK's role in the world, with a majority, 52 per cent, feeling proud, despite an overall majority believing decisions like Brexit had harmed the UK's reputation abroad.
British cautious on China
Loading
British attitudes towards China continued to harden. Whilst Russia rated less favourably than China, those surveyed said the priority for UK engagement with Beijing should be challenging the Chinese Communist Party on human rights, followed by cooperation on climate change.
"Britons are very cautious of cooperation with China, particularly in areas central to national security, seeing little justification for engaging with a nation they overwhelmingly distrust," Aspinall said.
"Even in a cost of living crisis, economic rationales for engagement with China hold little sway as Britons prioritise a robust, valued-led approach to China, in which they believe China should be expected and required to respect liberal values."
Support for Chinese involvement in British infrastructure, such as its nuclear plants, and its technology companies like TikTok operating in the UK, was just 15 per cent.
But there was a sharp divide on this depending on the age of the respondent.
For example, someone aged 18 to 25 was five times more likely to support Chinese tech companies compared to those aged over 66, the report showed.
Aspinall said the findings demonstrated a willingness to alter personal behaviour for national security.
"With such little support for Chinese tech companies such as TikTok operating in the UK, even among young people who widely use the app, it is clear that Britons view the threat posed by China as acute and pervasive, and that they are willing to make personal sacrifices to meet the challenge posed by China," Aspinall said.
TikTok was contacted for comment.
The findings suggest the public supports a tougher stance on China than Rishi Sunak has been willing to take, since becoming prime minister.
Earlier this year the UK was forced into banning TikTok from government phones after the European Commission acted first, sparking an outcry from members of the House of Commons, who urged Britain to follow the EU's lead.
Luke De Pulford, spokesman for the Inter-Parliamentary Alliance on China, an organisation which comprises MPs from jurisdictions and different political parties around the world, said it showed the public backed their work in pushing their governments to take a tougher stand on the Communist Party.
"While parliament and the people of this country have clearly woken up to the threat Beijing poses, the UK government is out of touch, clinging on to David Cameron's naive golden era project," he said.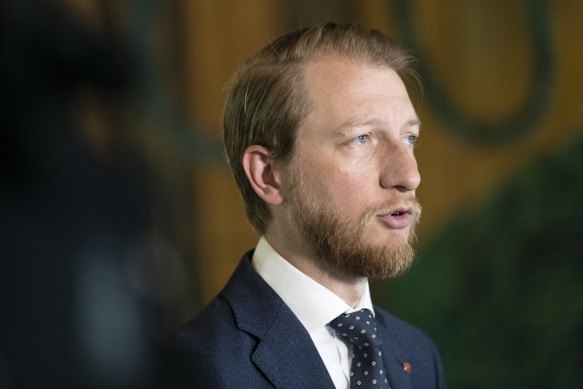 "Ahead of the next general election, both parties need to get their houses in order on China, or pay for it at the ballot box."
The opposition's shadow minister for home affairs and cyber security James Paterson echoed the comments, saying the data showed the public understood the threat posed.
"This data shows the public is miles ahead of many western governments when it comes to the dangers posed by high risk authoritarian vendors," he said.
"The public intuitively understands there's no such thing as a truly private company in a party-state system like China's.
"Unfortunately, the public scepticism about these risky technologies has not always been shared by governments in democracies, who over the years have riddled departments and agencies with HikVision and Dahua cameras, DJI drones and apps like TikTok and WeChat. It's time they caught up."
Paterson had criticised the Australian government for only banning TikTok from government phones after the EU and UK took action.
However, on some measures, attitudes warmed toward China somewhat compared to the year prior. Support for research collaboration between the UK and China increased by five points to 26 per cent.
The report argued that Vladimir Putin, who signed a no-limits partnership with Chinese counterpart Xi Jinping before his 2022 invasion of Ukraine, may have diverted attention away from China and contributed to a slight reversal in the hardened public mood that formed after the COVID pandemic which originated in Wuhan, China.
Get a note directly from our foreign correspondents on what's making headlines around the world. Sign up for the weekly What in the World newsletter here.