Perhaps it's okay to be "a bit of a busybody" sometimes, quipped Yuji Kuroiwa, Governor of Kanagawa, as he outlined how the strength of a response to a disaster lies in the community and encouraged neighbours to get to know one another and each other's escape plans.
Japan learnt this through tragic and bitter experiences. For example, Minamisanriku Town, ground zero of the 2011 tsunami, no longer exists. Those who survived moved inland. It is hard, visiting the area today, to imagine how people ever felt safe living on the edge of the Pacific in such an earthquake-prone country.
Two buildings speak to the town's destruction. The first is the mangled metal remains of the one that served as the disaster warning centre. The second is the Minamisanriku 311 Memorial, which honours those who lost their lives and serves as an educational resource, inviting visitors to consider their own suite of survival skills and evacuation plans.
I was struck by the sight of Australian flags, prominently displayed at its entrance and front desk. Australia was the first foreign country to send rescuers and aid after the tsunami and then prime minister Julia Gillard was the first world leader to visit. Inside, a helmet from one of the Australian rescuers sits in a glass cabinet.
Japan built not just memorials but also museums to mark their most catastrophic earthquakes. Although controversial, they are thought to provide a positive and instructional way to channel the collective PTSD.
Nowhere was this better demonstrated than at the foot of the cement ruins of Okawa Elementary School. The school sits just a few hundred metres from the base of a hill easy enough for any child to climb.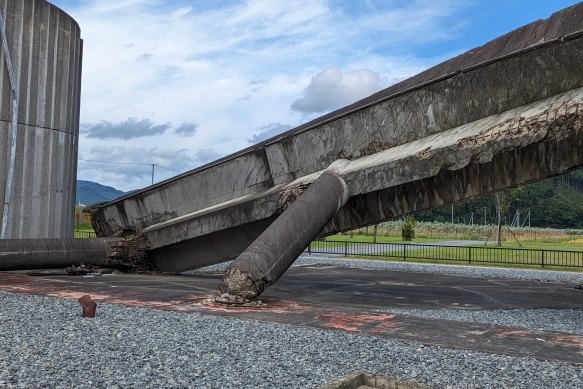 But despite having plenty of advance warning that the tsunami was coming, the children were held on lower ground in the schoolyard and those who attempted to escape were chastised. When the wave came, it engulfed 74 of the 78 students and 10 of the 11 teachers − those who survived were the ones who ran up the hill anyway.
These terrible details came out through the subsequent litigation launched by the parents of the children (suing is rare in Japan) and led to huge changes.
Now children are taught how to prepare for risk and act. Above all, they are taught to save their own lives first. Akari told me how she regularly practises earthquake drills at her school and I had no doubt she knew exactly what to do should something happen.
Loading
If Australia wants to get serious about how it deals with disaster, it's going to have to accept the costs of this level of permanent readiness. In Japan, the sums have saved lives.
The country's Self Defence Forces have 3900 people, 1100 vehicles and 40 aircraft on standby, deployable within an hour. Similarly, a cabinet minister is always available to attend, within 30 minutes, the emergency meeting that will be activated when disaster strikes.
Representatives from private sector companies (think infrastructure, communications, utility companies) are seconded to the cabinet office to join the officials who work on the response plans.
Relevant legislation is constantly updated and laws have even been passed to allow the clearance of abandoned passenger vehicles. At the Kobe Disaster Reduction Institute we learnt that drivers are told to leave their keys in the ignition if they have to abandon their vehicle, so emergency workers can move it.
It all felt a far cry from Australia's approach which, having established that Defence can't be first port of call to respond to our floods and fires, has only this week held its first National Disaster Preparedness Summit and is still to work out just who will step in if the military can't.
To understand Japan is to appreciate that the backdrop to daily life is its constant state of readiness. As one Australian who works in disaster response summed it up, disaster preparedness is embedded in its psyche.
Indeed, as I sat down to listen to the US ambassador to Japan deliver his speech, the host read out the evacuation procedures and with a smile, added "just in case". This could easily be Japan's national motto. Australia would do well to think similarly, stepping away from the "she'll be right" mentality that too often blights its ability to think long-term.
Latika Bourke is a journalist for The Sydney Morning Herald and The Age, based in London. She travelled as a guest of the Japan Foundation and Australian Institute of International Affairs.