The first double strike in more than 60 years hasn't hindered entertainment and media execs from enjoying the offerings of "billionaire summer camp"
Yes, studio CEOs are currently living the dream at the Sun Valley Lodge for the Allen & Co. conference while their talent strikes against them and the companies they lead. 
Negotiations between Actors Guild and the AMPTP broke down late Wednesday night leaving the SAG-AFTRA without an agreement on a new deal, promptly leading to a strike implemented on Thursday. For the first time in more than 60 years, SAG-AFTRA will join the WGA in the first double strike since Ronald Reagan led the Guild. It will shut down all film and TV productions that were still moving forward despite the WGA strike, including all promotional events for films and TV shows premiering now or in the near future. 
But back in Sun Valley… many of the leaders of those same studios are attending an annual conference that has them flying in on private jets that create a life-sized version of Tetris for the local Friedman Memorial Airport, riding in golf carts from one part of the resort to another, biking into town and being chauffeured in black Escalades. 
Media, technology, and finance moguls have been gathering in Sun Valley since 1982 in a week-long retreat funded by family-run investment bank Allen & Company. By putting on the conference, the firm is able to cultivate lasting relationships with corporate leaders while fostering dealmaking connections between attendees. A laundry list of blockbuster deals has sprouted from the seeds planted by Allen & Co. at the conference, including Comcast's acquisition of NBCUniversal in 2009 and the sale of the Washington Post to Jeff Bezos in 2013.
The invite-only annual conference has been dubbed "summer camp for billionaires," with Allen & Co. bringing in tons of infrastructure to cater to their high-profile guests. Attendees at this year's conference include Disney CEO Bob Iger, Warner Bros. Discovery CEO David Zaslav, and Netflix CEO Ted Sarandos, who all should be feeling the strain of a double strike.
That, however, doesn't seem to be the case.
By all accounts (and photos from the event), attendees appear to be luxuriating with a stunning mountainscape.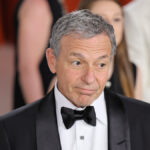 I have been in Sun Valley long enough to have experienced the prequel to the annual conference. The plot of which included a seemingly overnight build-up of an entire day camp area for attendees' kids that my inner child is deeply envious of, the vetting and training of a massive force of additional staff to make sure guests' every need is catered to, and the shuttering of some businesses in town for a brief summer hiatus who clearly don't want to partake in the performance.
Throughout the conference, attendees can be seen mingling with each other, hiking the trails of Sun Valley, or taking serene bike rides into town, which includes an array of boutique storefronts and restaurants of a quality that resembles a sprawling metropolis rather than a quaint ski town.
Some even go to the shooting range like David Zaslav, accompanied by film producers Brian Grazer and Jason Blum looking entirely unbothered by the strike announced just hours earlier, in a photo shared on Twitter and then promptly deleted by Blum. 
Studio execs smile and wave to the camera, debuting matching red windbreakers gifted by their generous hosts, looking incredibly happy to be facing an enormous strain on the industry.
Those black Escalades (provided by Allen & Co.) crowd the driveway of the Sun Valley Lodge with drivers ready to whisk attendees away to wherever they desire. Moguls are ushered into the car to avoid having to interact with anyone outside of their exclusive circle (and the reporters ambling around the resort and in town hoping to capture a moment with the industry scions).
Meanwhile, during SAG-AFTRA's press conference on Thursday, guild president Fran Drescher called out the AMPTP for not taking their demands seriously. "Shame on them," Drescher said in a fiery speech. "We are being victimized by a very greedy entity."
Disney CEO Bob Iger joined CNBC at the crack of dawn Thursday for an interview with the sprawling Sun Valley mountains in the background, where he expressed his distaste for the expectations of Hollywood talent. Iger called the double strike "disruptive," "disturbing," and "not realistic" while enjoying the endless amenities provided by Allen & Co.
"This is the worst time in the world," to add to the disruptive forces like the aftermath of COVID already at play in Hollywood, he continued. 
Iger received intense backlash for his harsh comments about the double strike. It didn't help that he bashed the WGA and SAG-AFTRA from the place of ultimate privilege.
The Disney CEO telling CNBC that he's disappointed with the double strike while soaking up the rays with some of the richest people on earth perfectly exemplifies why both Hollywood writers and actors are picketing. Iger took home $15 million in compensation, David Zaslav $39 million, and Ted Sarandos $50 million in 2022. 
The disparity between high-level executives and talent is severe and it has never been more evident than this year, with moguls basking in wealth and their talent back home calling simply for fair treatment by their employers.
Warner Bros. Discovery, Paramount Global, Blumhouse and Double E Pictures didn't immediately respond to TheWrap's requests for comment on criticism and whether their executives are planning to leave the conference early.
Regardless, their escape from reality will soon come to a close. Saturday, the studio CEOs will sit in an absurdly long queue for their private jet to take them home to the crisis that awaits them.