"The US have been doing it for decades without serious incident … and this will give us the skills, knowledge and attitude to repatriate that to Australia."
Nuclear Power School is often acknowledged as the most challenging training course in the US military. According to the navy's website, students typically spend 40-45 hours per week in the classroom with an additional 10 to 35 hours per week of study outside of lecture hours.
In addition to meeting physical standards and security clearance requirements, enlisted applicants must be high school graduates who have scored in the top percentile in the military's aptitude exam.
Think of it as a university engineering degree crammed into six months, says Heydon. Filled with subjects such as maths, physics, and thermodynamics, there's an exam every week for 24 weeks, culminating in a major test at the end of the year to ensure you have what it takes to safely operate nuclear machinery.
And that, in itself, is no ordinary task. After all, nuclear-powered submarines such as the Virginia class models used by the US Navy can stay submerged for up to three months at a time – far longer than Australia's fleet of diesel submarines, which need to frequently resurface to replenish oxygen and battery power.
Known as the "apex predators of the sea", they are also heavily armed – each boat can carry about 37 torpedo-sized weapons, including Tomahawk missiles – and can seek and destroy enemy ships, conduct land attacks, and carry out intelligence, surveillance and reconnaissance missions.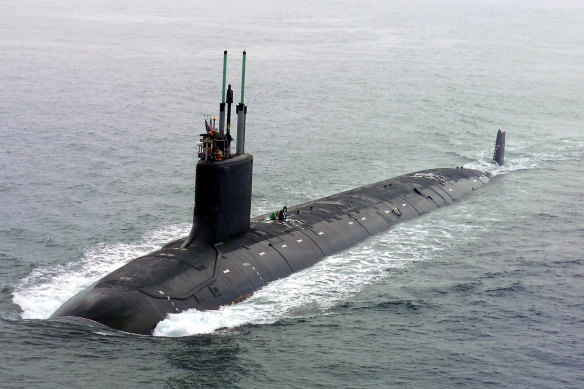 So why did the group decide to embark on such a career path in the first place?
"Being a submariner is a little bit strange, in and of its own right, but the challenge of operating and leading teams in nuclear-powered propulsion is something that really appealed to me," said Klyne, a father of three originally from Brisbane.
Hall, another Brisbanite who used to be a signals and communications officer on HMAS Rankin and is the youngest of the group, said he saw an "opportunity for personal growth."
And Heydon, a former marine engineering officer on HMAS Dechaineux, pointed to the research and technological advances for Australia.
Loading
"There's lots of opportunity within this program: for engineers, for logisticians, for all rates and officers and branches – not just within the navy but within the public service and industry," said the former Toowoomba resident. "We're the start; the tip of the spear."
Unveiled in March by Prime Minister Anthony Albanese, US President Joe Biden and UK Prime Minister Rishi Sunak, AUKUS represents the biggest leap in Australia's defence capability in history.
The sweeping plan will begin with more visits to Australian ports by US submarines this year and British vessels from 2026, before a fixed rotation of naval power in Perth from 2027. Over time, Australia will aim to build a new fleet of nuclear-powered submarines, entering service in the 2040s.
In the meantime, Australia will buy at least three Virginia-class submarines from the US, pending approval from the US Congress.
However, questions remain about the lengthy time frame and eye-watering cost; the maze of US export control laws that must be reformed for America to share nuclear technology secrets with Australia; and whether enough people can be recruited to build and run the new subs. Another question is whether Canberra is now tied to the whims of Washington.
Asked if Australia could develop its own nuclear training school to train officers, Vice Admiral Hammond replied: "I think if we're serious about developing a sovereign nuclear submarine capability, then in time, definitely all parts of the ecosystem should be built and operated by Australians, in Australia."
"The fact that we've got Australians here, studying at a nuclear power school, I think is a great indicator of just how far we've come," added Hammond, who attended today's graduation ceremony with top navy brass including Vice Admiral Jonathan Mead, the chief of the Nuclear Powered Submarine Taskforce and Admiral James Caldwell, the director of the Naval Nuclear Propulsion Program.
At present, there are six Royal Australian Navy officers enrolled in the school, and according to Hammond, "by this time next year, we'll have somewhere between 20 and 30."
"We'll just continue to ramp up," he said. "It's a complex challenge, especially given the workforce environment back in Australia. Every company, every organisation wants talent, so we're focusing very clearly on recruiting and retaining … I just need to get a whole bunch more Australians interested in joining."
Get a note directly from our foreign correspondents on what's making headlines around the world. Sign up for the weekly What in the World newsletter here.