Florence: Just four at a time, visitors soon will be allowed access to a space hidden inside Florence's Medici Chapel for more than 400 years, where it is believed Michelangelo sketched delicate charcoal drawings on the walls.
The secret room – a narrow space that is only 10 by three metres – was discovered in 1975, when officials were searching for a new exit from the Medici Chapel in the Basilica of San Lorenzo to accommodate increasing visitors.
The museum's then-director Paolo Dal Poggetto "firmly believed that they were by Michelangelo," said the current director, Paola D'Agostino. A fierce debate ensued, and continues to this day.
"The major scholars of Michelangelo's drawings dismissed the attributions" at the time of discovery 50 years ago, she said. "Others had a more moderate view, in the sense they though that some could be by Michelangelo and others could be by followers. So the debate is ongoing."
The room was used to store coal until 1955, and then sealed closed and forgotten for decades below a trapdoor that was in turn hidden beneath furniture. The drawings themselves were discovered under two layers of plaster.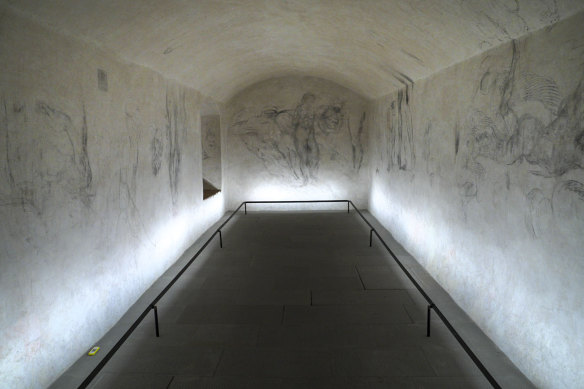 According to Dal Poggetto's theory, Michelangelo hid in the tiny space from "the wrath of Pope Clement VII" for supporting a short-lived republic that overthrew the Medicis. It is believed he spent about two months in the tunnel-like room in 1530 after being served a death sentence. There he sketched studies for some of his projects. They include those believed to be the legs of Giuliano de' Medici, co-ruler of Florence, whose statue by the artist remains in the New Sacristy near the secret room's entrance.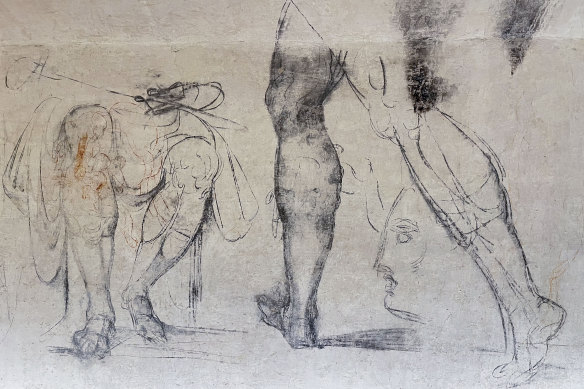 For most of the last five decades, access to the room has been restricted.